Gisela
Team Lead
At Refine we strive to deliver "Care as Unique as Your Smile," and I take that to heart. As Team Lead, I work behind the scenes to support our team in any way necessary in order to deliver the best care possible to our patients. Seeing the smiles of our patients makes my job immensely rewarding.
My husband, two sons and I have recently moved to BC from Montreal, QC so when I am not at the clinic, we enjoy exploring all that this beautiful province has to offer. I love spending time with my extended family playing games, hiking, kayaking, camping or just sitting by the fire. I also enjoy baking, scrapbooking, reading and volunteering.
Proficient in the language: French
---
Sharon
Treatment Coordinator & Certified Orthodontic Clinical Assistant
I love introducing new patients and parents to Refine Orthodontics and informing them on how we can bring out the best in their smile. During the initial consultation, I assist in answering questions related to the treatment plan, the doctor's recommendations, and the available options. It is rewarding helping individuals make educated decisions about their smiles. I am also responsible for creating payment plans and tailoring them specifically to suit each individual family's needs.
When I am not at our practice, I enjoy walking, hiking, and spending time with my husband, three sons and hanging out with my bunny, Kacey.
---
Suzie
Financial Coordinator
I enjoy getting to know our patients and their families. It is a great feeling to see their smiling faces coming through our doors, eager to tell us about something exciting going on in their lives. Our patients are some of the best people, and it's amazing to watch them gain confidence and self-esteem as they get their new smiles. I welcome everyone, check them in, and help with their paperwork. I also answer the phones, schedule appointments, and answer general questions.
Outside of work, I spend most of my time with my husband and two sons. We enjoy skiing trips and going to our family farm.
---
Alex
Lab Technician
I'm a dental technician and I work in the lab. I am responsible for fabricating all of the orthodontic appliances which hold the teeth in an exact position, appliances which expand the arch, and appliances that push or pull stubborn teeth into the right position. I don't usually see our patients, but I care very much about each patient's successful outcome, comfort, and overall satisfaction.
Outside of work, I love spending time with my family, finding serence places in the beautiful outdoors, watching good movies, and reading educational books.
Proficient in the language: Polish
---
Navi
Certified Orthodontic Clinical Assistant
I enjoy getting to know our patients and their families. It is great to be involved in giving someone a beautiful new smile. I appreciate the friendships that develop and love learning more about each person we serve. Seeing a friend's perfect new smile, and how happy it makes them, makes me smile. I assist during visits to make sure the doctor has everything she needs. At the same time, I talk with our patient about how their treatment is progressing and how well they are doing.
When I am not in the office, I am usually with my family and friends. I love to travel, shop and I'm always looking for a new adventure. I also enjoy working on my family farm, running, photography and watching football.
Proficient in the language: Punjabi
---
Carley
Certified Orthodontic Clinical Assistant
Patients are my number one priority. I love getting to know them and enjoy helping them feel comfortable to make sure they have a good experience... and if possible, I try to get them to laugh! I assist in helping patients reach their final goal... a beautiful smile!
Outside the office you can find me spending time with my husband and my two favourite nieces. I am also a caregiver, volunteer and scrapbooker.
Proficient in the language: Spanish
---
Shadé
Certified Orthodontic Clinical Assistant
My interest in dentistry began after being intrigued by my own Orthodontic experience. I now have over fourteen years experience working within the dental field. My goal is to help make each individual's experience a positive one, while looking foward to the end result - A new smile!
Outside of work I enjoy spending time with my family and being active. My two children are involved in multiple activities within the community. We also like to be outdoors and especially enjoy camping in the summers.
---

Janice
Clinical Assistant
I take care of the sterilization and assist in helping the clinic to run as smoothly as possible. I also enjoy connecting with the patients after they get their braces on and going over the importance of proper oral hygiene during their orthodontic treatment.
Outside of work I enjoy spending time with family and friends, usually over coffee! I also love vacationing (beaches are my favourite!) and other outdoor activities like biking, hiking, and kayaking.
---
Julia
Scheduling Coordinator
I am always running around the clinic for one reason or another-- whether I am decorating for the holidays, running contests and games for our patients, booking appointments, or assisting the doctor, I am always kept busy!
Away from the office, I enjoy reading, watching movies and collecting vinyl records.
---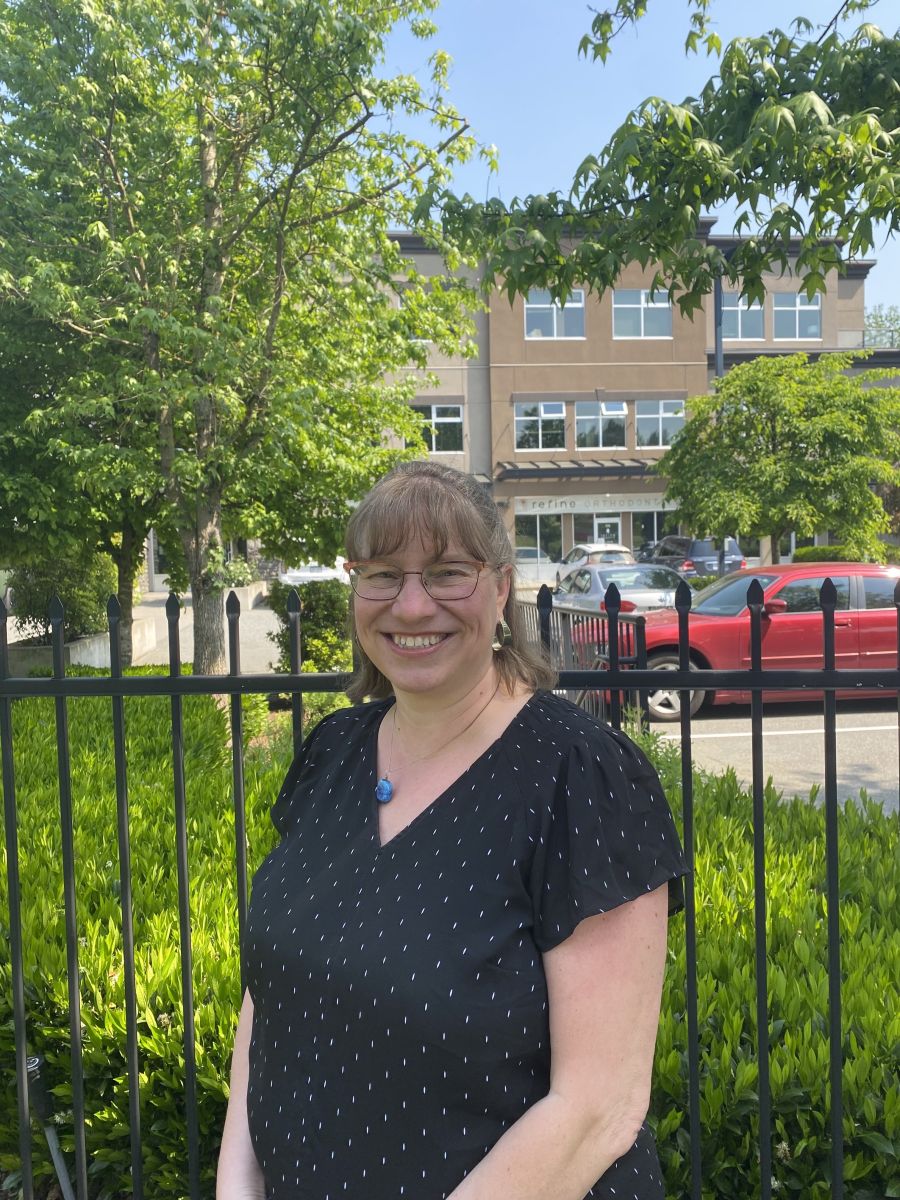 Noel
Scheduling Coordinator
I love connecting with people! My job is to book your appointments here at the clinic.
When I am not at work, I am at the field volunteering and watching my boys play football and rugby, at B. C. Lions games, reading, or scrapbooking! I have hosted international students from around the world, and I have always wante to drive in a demolition derby!
---
Estella
Certified Orthodontic Clinical Assistant
I am an orthodontic CDA at Refine, and I love being a part of your journey to a beautiful smile! In my spare time, I love going on hikes. My favourite food is pasta, my favourite vacation is anywhere in the Carribean, and I love alpacas!
Proficient in the language: Russian